In light of the recent White-House Summit on Next Generation High Schools, we want to highlight our 2015 initiative for Career Technical Education (CTE) standards.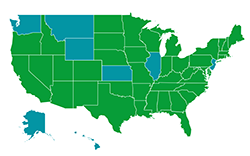 At the end of last year, EdGate made the commitment to acquire all of the Career Technical Education (CTE) and Common Career Technical Core (CCTC) standards for our repository by the end of 2015. To date, we have successfully processed over 90% of all the standards.
If you have a learning management system and are in need of CTE standards, you're in luck! The standards are ready and available for licensing now!
Phase II of this initiative will be to align Career Technical Education content to the standards. Correlating the CTE standards is an important, ongoing initiative and we are looking for publishers to partner with us on this journey.
Please contact one of our representatives for more information about our CTE standards initiative or visit our website at http://correlation.edgate.com/cte
To reach our Sales and Marketing Team, choose your contact below:
Gina Faulk

General Manager

Tracy Olstad,

Account Manager

Larry Johnson

Client Relationship Manager